NEWS
NEWS
2016.11.10
Article Title
An ADK project of "Amorphous"(AGC Asahi Glass) Wins Spacial Communication Award of Communication Design Category in "Red Dot Design Award"
#Awards
ADK (Registered name; ASATSU-DK INC., President & Group CEO; Shinichi Ueno, Head Office; Minato-ku, Tokyo) is pleased to announce that "Amorphous" (AGC Asahi Glass), for which ADK handled its planning and production, received Spacial Communication Award of Communication Design Category in Red Dot Design Award*, an leading international product design award.
"Amorphous" is glass installation which was presented at Milan Design Week, a world's largest design event held in April 2016. AGC created an amorphous molecular structure of glass in a model one billion times its actual size with approximately 5,000 pieces of chemically strengthened glass of as thin as 1mm, a pioneering technology of AGC, dancing in the space. With this as the concept motif, the work rendered a "light, flexible and expressive" glass world that demonstrates the future possibilities of glass.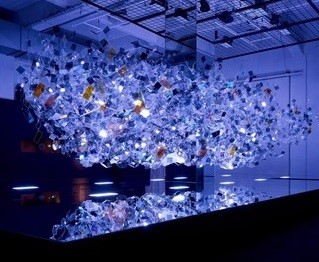 Photo by Akihide Mishima
[Creatives engaged]
Project Management by ADK: Hiroshi Marutani, Meiko Ugawa
Product/Operation Direction by ADK Arts: Hidetoshi Muraoka, Shiho Okabe, A. Son
Space Design by NOSIGNER: Eisuke Tachikawa, Kunihiko Sato
Lighting Design by Izumi Okayasu Lighting Design: Iaumi Okayasu
Sound Design by Kenta Kamiyama
*Red Dot Design Award
The Red Dot Design Award is organized by the Deisgn Zentrum Nordrhein Westfalen in Germany. It is awarded in three categories: Product Design, Communication Design and Design Concept. It is a world' leading and recognized award with more than sixty years history.