NEWS
NEWS
2021.6.29
Article Title
ADK Taiwan wins BRONZE Lion at Cannes Lions 2020/2021
#Awards
ADK Taiwan wins BRONZE Lion at Cannes Lions 2020/2021

ADK Group is pleased to announce that the work created by ADK Taiwan has been awarded a Bronze Lion in the Entertainment Lions category at the Cannes Lions International Festival of Creativity 2020/2021. This year, the festival was held online from June 21 to June 25, 2021.
Please find below information on the awarded work:
<BRONZE>
Entertainment Lions
Client:UNI PRESIDENT / UNI NOODLE
Title:YOU ARE HOW YOU SLURP
Agency:ADK TAIWAN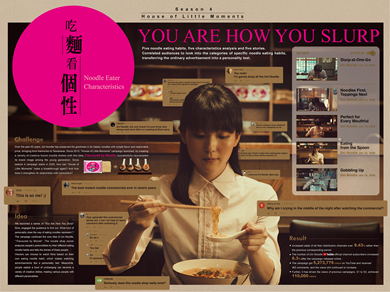 Movie URL: https://www.youtube.com/watch?v=mGcyYIj-XZc
Starting in 2015, ADK Taiwan launched a series of films called "House of Little Moments". The films combined creative Uni Noodle fusion recipes and an important idea, "Flavoured by moods". The beloved serial films are launched every year and its unique cinematic storytelling and profound dialogue has become an exclusive characteristic. The new series of "You Are How You Slurp", the noodle shop owner analyzes different ways of eating noodles. While enjoying the unique and cinematic story-telling style of "House of Little Moments", people are not just watching commercials, but also doing a personality test!
Meanwhile, viewers can also realize how a bowl of instant noodles with its unchanged flavor turns into a variety of creative dishes to comfort different customers with different personalities.

The Cannes Lions Festival of Creativity is one of the most prestigious international creative award events. Due to the spread of the new coronavirus infection, the festival was canceled in 2020, and this year, judging for two years' worth of work were conducted and winners were announced online.
Contact:
ADK Holdings Inc.
Office of Corporate Communications
e-mail: adkpr@adk.jp