SOCIETY
We strive to contribute to society by utilizing our knowledge, creativity and ideas to move toward a brighter future.
---
ADK Art Gallery
To mark the transfer of ADK's Head Office to Toranomon Hills, ADK opened, in 2014, an art gallery - situated beside the entrance - showcasing the works of emerging artists.
With the assistance and support of Tomio Koyama Gallery, artists selected by ADK's Art Director have created works based on the theme "The Power of Action". These works are replaced once a year to introduce and support up and coming creators.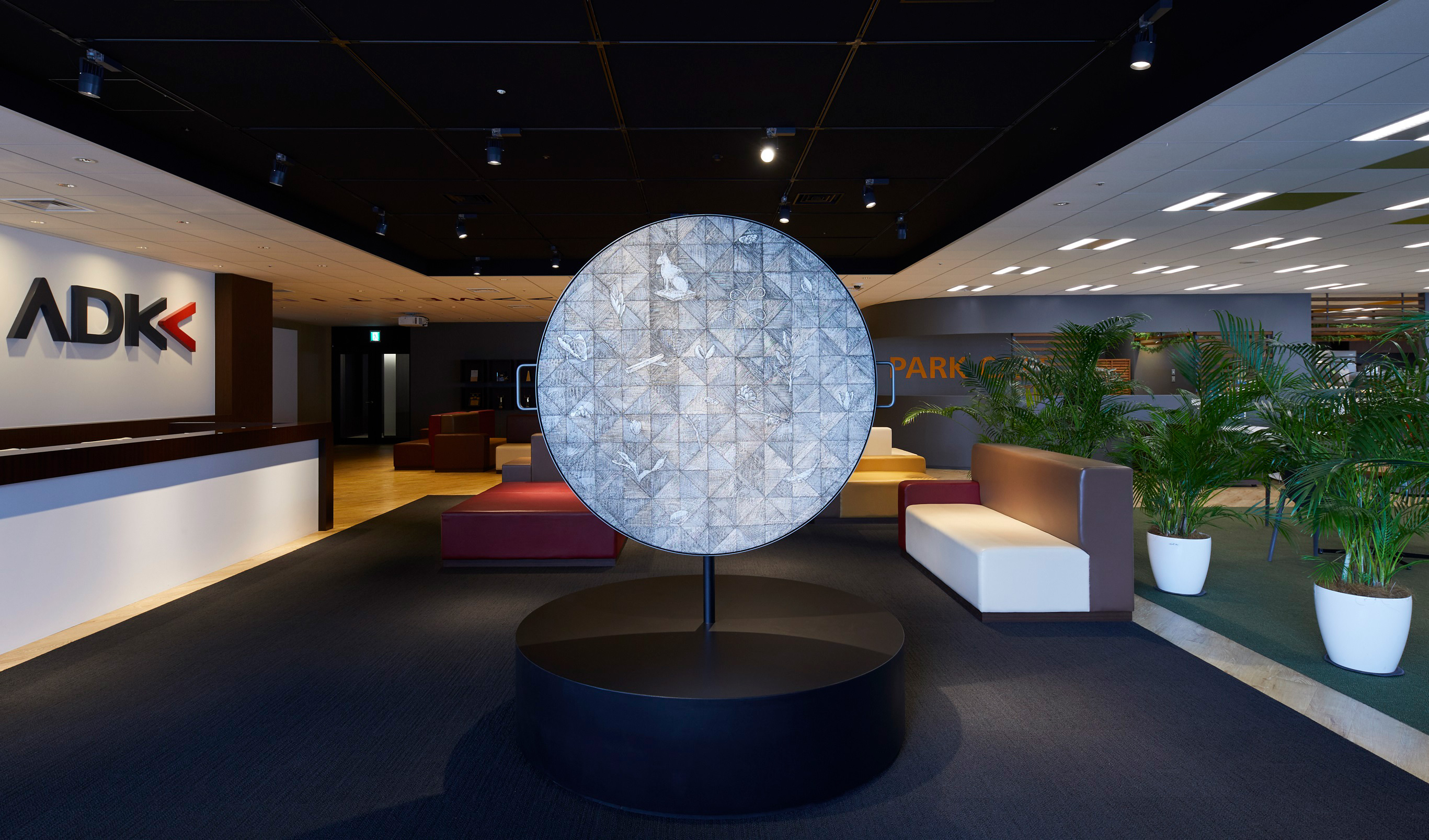 Works currently on display
From July 2020, a new work by artist Nana Funo titled The Series of Things to Take on My Boat; Key, Window and a Spread Curtain will be on display. This piece is characterized by the transformation the artwork shows when shifting the viewing angle. Light streams in from the large window at the entrance of ADK, pouring light on the round object of art. The resulting effect makes the motif and brush strokes float and sink repeatedly, creating a unique, multi-layered composition.​
---
Education and Awareness Activities – Encouraging the ability to think and communicate
In education today, there is an increased focus on developing the ability to think independently and to communicate effectively. ADK has continued to implement educational activities targeted at middle and senior high school students with the aim of getting young Japanese to understand what advertising involves. ADK also provides programs that enable students to learn how to stimulate creativity and how to communicate. Another initiative is the workshops promoting and stimulating creativity in children by utilizing ADK's knowledge of and experience in the children's market that has been developed over the years through its content business of TV animation.
Work experience workshops for junior high school students
A three-day program in which students learn about what an advertising agency does. Practical exercises are offered for students to experience and learn about the "ability to ask questions" and "the ability to be creative", essential when working in advertising. After this, students create an actual ad under the guidance of a creative director. The workshop has been designed to enable students to experience both the fun and the role of advertising by learning how to come up with an idea, convert the idea into a communication tool, and then disseminate this to the public.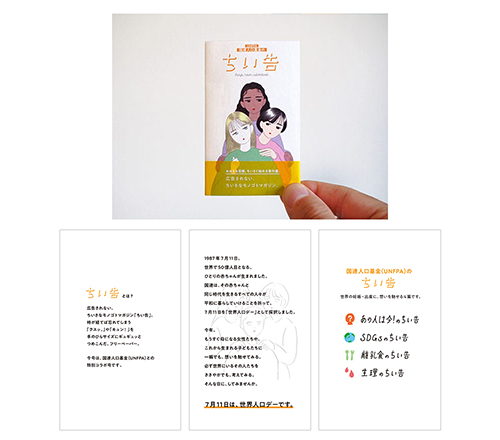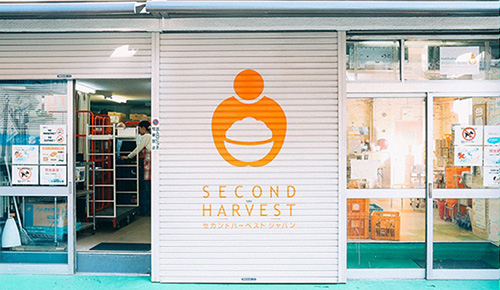 Kids Workshop
ADK designs and runs a diverse range of workshops that include the Kids Workshop held during the summer holidays at Toranomon Hills.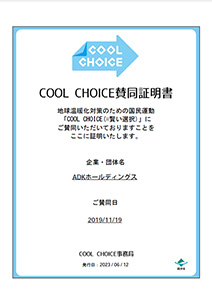 ---
Social Contribution Activities
"Braintal"
60th Anniversary CSR/CSV Project
ADK is committed to addressing the many social issues that exist today by harnessing our ability to come up with ideas and solutions which are unique to an advertising agency. "Braintal" – established in 2016 to mark ADK's 60th anniversary – is a social contribution initiative that literally lends our "brain" to society. ADK called on members of the public as well as organizations, through its website, to tell us about social problems and issues that were identified. ADK staff then formed teams to come up with ways to address these problems and issues.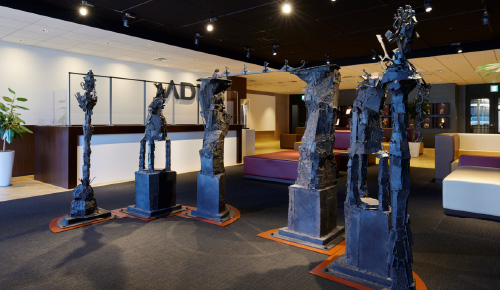 ---
Disaster Relief Efforts
Photo Letter from Minami Sanriku
To support the restoration of Minami Sanriku in Miyagi Prefecture which was devastated by the Great East Japan Earthquake of 2011, ADK continues to publish the series "From Minami Sanriku". This series is a collection of images by local photographer Shinichi Sato, who has continued to capture images of his hometown since the earthquake.
Volumes 1 to 5 have been released so far. These volumes represent more than a record of the progress of the restoration taking place in the disaster area. Sato wants as many people as possible to visit Minami Sanriku, and his vision includes promoting Minami Sanriku – through his letters and photographs – as a destination. These publications therefore also function as guidebooks promoting tourism in the region.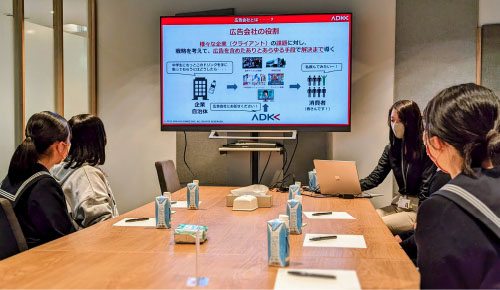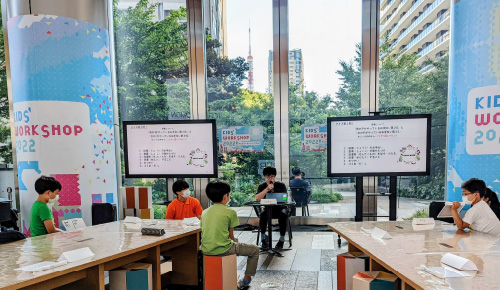 Shinichi Sato
Profile
Born in Minami Sanriku, Miyagi Prefecture, in 1966. Sato became the second-generation operator of photography studio Saryo Studio. He lost both his home and studio as a result of the tsunami triggered by the Great East Japan Earthquake on 11 March 2011. As reflected by his statement – "I want to capture images that capture the most difficult times that we've ever experienced, to encourage people to overcome anything that may happen to them in the future" – Sato, who escaped with nothing but his camera, started taking images immediately after the tsunami. To this day, he continues to document the process in which a city which was decimated is slowly recovering.